Back in late February 2020 the Chris Harland Blues Band quietly released a new CD...

However, due to the COVID restrictions being enforced so soon after, the band never got round to promoting the new album...

So, November 28th sees the CHBB performing back in Canberra for two shows at Smith's Alternative as a platform to promote the (belated) launch of CHBB - "Live at the Grand".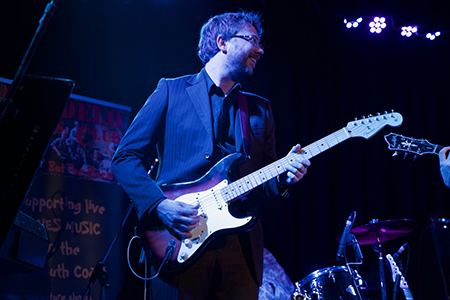 After 4 years honing his craft by performing on the south coast of England, Chris Harland exploded on to the Australia blues scene in 2007. Picking up the Canberra Blues Society's award for best instrumentalist in 2008 paved the way for numerous festival appearances and attention.

The combination of screaming, weeping, singing guitar solos with soulful vocals sees Chris Harland and his eponymous band deliver a distinguished standard of searing Chicago Blues. A promise to showcase a commanding performance that will not be forgotten in a hurry.

Chris Harland has performed alongside some of Australia's biggest names in blues music including Shane Pacey, Ali Penney, Ray Beadle, Blue Eyes Cry, Charlie Bedford, Jesse Valach and was chosen to be the support act for Eric Burdon and the Animals for their Canberra Theatre show during their 2016 Australian tour.

After making a name for himself in the Canberra region, Chris Harland and his band were invited to perform at a number of national Australian blues festivals; The Australian Blues Music Festival, Echuca-Moama Winter Blues Festival, The Great Southern Blues Festival, Mitchell Creek Rock 'n' Blues Festival, Merimbula Jazz Festival, Kiama Jazz and Blues Festival, Sydney Blues Festival...

With a formidable rhythm section the Chris Harland Blues Band have the precision to nail every live show they play. With their long awaited debut Australian album, A Long Time Coming, reaching the top ten on the Australian Blues and Roots radio airplay charts and the track It's Getting Late being nominated for a Chain award, it is a sign of much more to come from the CHBB.

With a total of four studio recordings and two live performance recordings released, many successful festival appearances, two short overseas tours back 'home' to the UK, Chris Harland has proven that from local blues jams to the international stage he is a musician on the rise.
www.chbb.org
www.youtube.com/chbband
www.instagram.com/chbband