The sense of smell is our first sense to develop in the womb yet it is our most misunderstood tool for comprehending the world around us. It has the power to sculpt emotion, influence relationships & revive long forgotten memories. But scent and the art of perfumery have always remained under strict lock and key, only concerned with passing on tradition & never trying something truly different. Until now very few humans have ever dared to explore the question of "What would Beethoven's Moonlight Sonata or Miles Davis' Blue In Green smell like?" but that is no longer the case. After studying electronic music composition at college, Clancy moved to New York City where he studied at Dubspot, a leading Electronic Music Production and DJ School. From there he studied music design at UTS where he harnessed his musical performance and composition techniques and played at such venues as Manning Bar & the National Gallery of Australia.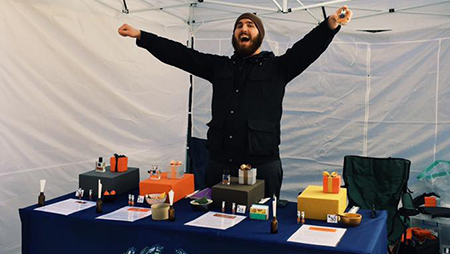 Sonic Alchemy transports the audience through 5 scent & sound themes, exploring the concepts of: Brazil, Cold, India, Jazz and the colour green.

In this deeply thematic performance, Clancy's emotive stage presence and the beautifully designed scentscapes will take you on a dream-like experience. Welcome to Sonic Alchemy.