Queen Porter Stomp play jazz where swing is the key you play, Melody is your gypsy mistress, and signature is what you're trying to avoid committing to paper until you have a shot of bootlegged whisky. They pack a punch with blazing horns that scream straight to your soul, a banjo that exorcises demons on the wrong side of midnight and a ukulele songstress that seduces like a warm summers day.
With special guest, Emma Dryden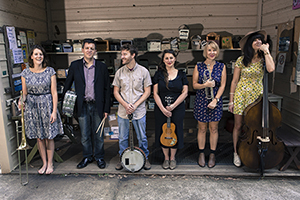 Blending folk, jazz and world music they cross over scenes, taking their caravan up, down and through the smoke and mud of the festival circuits (like Woodford, Manly Jazz Festival and Falls Festival). Shine those shoes and undo that top button – if you're just tapping those toes, then you're in the wrong bar. This is Queen Porter's joint.
https://queenporterstomp.bandcamp.com
https://www.instagram.com/queenporterstomp/
https://soundcloud.com/queenporterstomp
https://www.facebook.com/queenporterstomp/
https://twitter.com/queenporterstmp