It's the last Saturday of Summer, so let's soak up an afternoon of indy-rock, cruisy 90's and contemporary folk rock with David Bath and the Hot Tubs + Ryland Newstead and the MCG's + Howling Moon
Taking inspiration from the early Australian, British and American rock guitar popular music periods. With musical influences ranging across the 90's grunge, modern alt-country-rock and surf guitar-blues.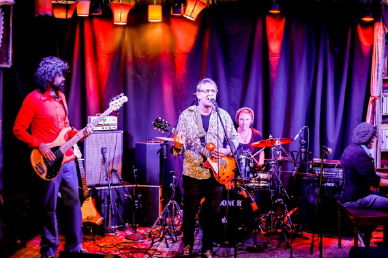 Lead by David Bath, songwriter and guitarist from Canberra who released his first E.P tilted 'Do What You Must' in 2018 with the Hot Tubs. The music draws on his interests in social issues, contemplation and general wellbeing for the planet. Telling stories about life, how the cards fall and how we adapt as it unfolds.
Backed up by the Hot Tubs, featuring Katharine Hagan (drums) Gerry Andrew (bass) Ellen Levingston (piano, clarinet, saxophone). The band brings a super laid back psyched-out vibes to warm everyone up, with some punchy, blues, surf edged numbers at the right junctions.
Ryland Newstead and The MCGs are a Canberra alt rock band, inspired by The Beatles, The Dandy Warhols, The Brian Jonestown Massacre and Oasis.
The band kicked off 2023 with the release of their debut live EP "The Live at the Polo Live EP", which includes the "hits" Mary at Cherry and Sometimes Friends Set You On Fire.
Making zero attempts to subvert the time-tested and proven success of a line-up that includes two songwriters, two guitars, bass, keys, drums and a penchant for the psychedelic, Ryland Newstead and the MCGs are excited to bring their energetic and melodic songs to Smiths for the first time this February.
Howling Moon are a Canberra-based indie rock band. The songs feature honest, heartfelt songwriting and draw inspiration from blues, prog and rock. Howling Moon features Jonathan Hancock (drums), David Bath (bass), Tim Brennan (guitar) and John White (vocals, piano, guitar).