Acclaimed Australian singer songwriter Jodi Martin (ABC TV BACKROADS) joins forces with Californian songsmith and groovemaster Jay Bishoff on her Never Settle Spring Tour 2022. Jodi's evocative country/folk single 'Never Settle', has hit the Australian Country Charts and honours her unshakeable belief in following our dreams and staying true to our hearts. Jodi kicked off her music career at the age of 16, when she wrote a song for Kasey Chambers and the Dead Ringer Band's ARIA Award-Winning country album Homefires and the Weekend Australian has hailed her 'one of Australia's most talented singer songwriters'. Together Jodi and Jay are a force to be reckoned with, and their music has seen them tour throughout Australia and to Europe and North America. Their shared gift for storytelling, combined with Jay's breathtaking musicianship and contagious humour guarantee belly laugh stories and insightful songs that will leave you with tears in your eyes and goosebumps on your skin.
Saije is an award-winning, contemporary folk duo whose soulful harmonies, dynamic guitar-lines and percussive breakdowns breathe life into heartfelt stories. Their songwriting is crafted from the depths; stirring melodies bound together with graceful lyricism. Through multitasking techniques, the pair create a full-bodied sound enriched by flavours from their travels around the globe.
After being awarded Folk Alliance Australia's 'Young Artist of the Year' (2019-2021), Saije toured their latest release, 'Kindred', throughout Australia and Canada in early-2020. On their 2021 'Rekindle Tour' the pair carried their music and messages of connection to the far-flung corners of Australia, with unifying performances and a warmth that filled small halls and overflowed from large festival stages.
Spotify – YouTube – Instagram – Facebook: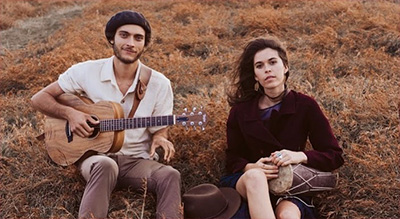 Kin are a local acoustic trio, three voices two guitars, who thought they were signing up to play an open mic and now find themselves opening for two seasoned touring artists.