Jasper Bell & the Double Dole Stringband are a Melbourne-based 4-piece bringing a progressive take on Appalachian fiddle tunes in the old-timey and Bluegrass style. Direct from the long Melbourne lockdown, the Double Dole Stringband used their time writing and recording, using their Centrelink money to fund their musical lifestyle choices:
Their forthcoming debut album brings together 8 original tunes and songs in the old-timey and bluegrass style. It's a bitter shame dancing has been outlawed, because their wailing fiddle tunes will make you want to swing your partner round and round and waltz like you're exorcising your demons after a coronavirus winter.
Jasper Bell & the Double Dole Stringband are; Jasper Bell on mandolin, Grace Bigby on fiddle, Luke Byrnes on guitar and Jimmy James on the ol' five.
Scroggin
Hailing from the high country of the Southern Table Lands, Scroggin are the region's premier Roograss outfit.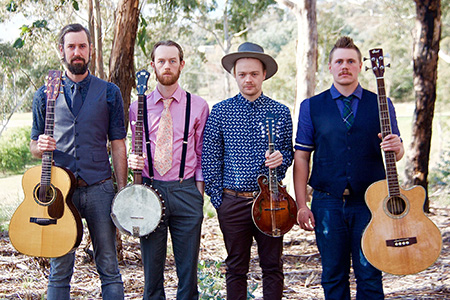 True to their namesake, Scroggin play an eclectic, high-energy mix of delightful morsels both savory and sweet. Well-rooted in Bluegrass standards, they also branch into Celtic Folk, Australiana, and Western Swing, with a sprinkling of Country songs for more sombre moments. Scroggin embrace the contradictions of traditional music in the new age, playing country music for city folk, and old fashioned songs for the modern world.