A gathering of singers, musicians and dancers from local choirs, ensembles and students from the School of Music and the School of Art get together to have fun, showcasing the skills they have learned from years of their performance experiences. There will be classical instrumental music, folk songs and dances from various countries. Please join us to celebrate Canberra's cultural diversity.
Featured artists:

Capital Folk: Well known folk music from around the world. Featuring a delightful vocalist, backed by violin, cello, flute, recorder, concertina, guitar and percussion
KOKOLOCO: One of Canberra's most presigious dance studios. They will be bringing their unique brand of Brazillian dance.

Jacinta Zander: Performing original music on the Harp.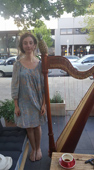 Also featuring performances from:
Frances Maclaren (vocals), Julie Carmody (vocals), Lucy Wenger (Pianist) and Mimi and Fifi performing Zumba!
Entry is free.