The Decideds
Strap in for an audible feast of eclectic beats as The Decideds dance you through a unique blend of genres touching on soul, funk, disco and swing. With catchy melodies, irresistible rhythms, big dance energy, the 7-piece band has been winning over audiences in festivals and gigs throughout ACT and NSW since 2021. Infectious and uplifting, The Decideds will make you sweat on the dance floor and hum in the shower for weeks to come.
Band Members
Rafe Morris - Guitar/vocals
Kyra Lloyd - Vocals
Owen Cooper - Bass
Bruce Smyth - Drums
Dan Luton - Percussion
Kevin Knapp - Trumpet
Thomas Manley - Clarinet
Alder Wild is a new and exciting indie/pop fusion band, led by vocalist and guitarist LucaFlorez.Luca Florez is a singer-song writer, who is known for his dreamy vocals and captivating expressionism through lyrics. The 4-piece band is comprised of lead guitarist, Ed York, bass guitarist, Finn Clarke anddrummer, Kieran O'leary.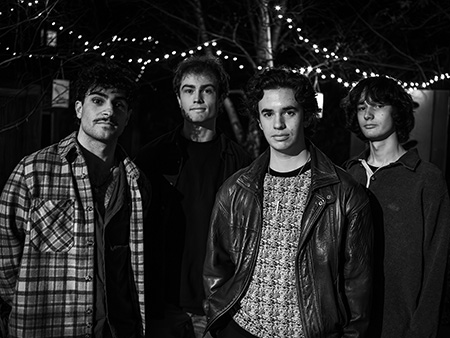 The group is no stranger to the music scene playing in already sensational local bands:Flower Market (Ed York and Finn Clarke) and Muesli (Luca Florezand Kieran O'leary.Alder Wild finds the sweet spot between pop/reggae and rock, taking inspiration from artists such as Briston Maroney,Hozier and Mako Road. Dreamy melodies, soul-dropping guitar licks and killer drum grooves is what is to be expected from this new Canberra band who lack neither experience nor poise.